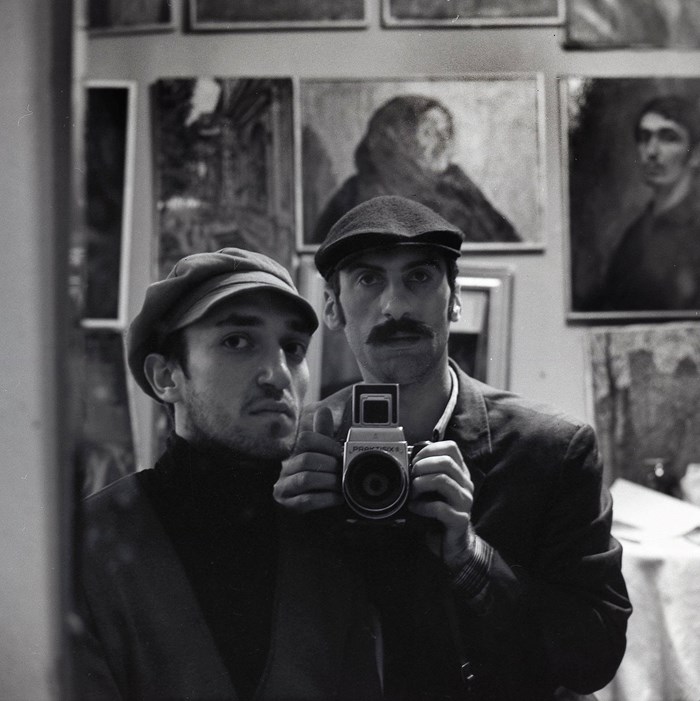 Vigen Vartanov (Vardanyan)
The pleiad of Armenian artist-photographers from Tbilisi is a significant one and Vigen Vartanov occupies a special place amidst these practitioners for the extent of his experimentation and the multifaceted nature of his creative work. Born in one of the oldest neighborhoods of Tbilisi, Vartanov was enamored with art, photography and cinema from an early age, but his attempts to become a cinematographer failed.(1) Instead, he landed a job as a stills photographer at the Georgia Film studios and worked there from 1960s until the collapse of the Soviet Union.
In tandem with his professional responsibilities at Georgia Film, Vartanov actively pursued his independent photographic experiments, which were evidently influenced both by his cinematic milieu and the late-modernist works of Czechoslovak and Polish photographers that Vartanov would have seen on the pages of imported Eastern-European magazines such as Projektand Fotografia. Shooting mostly in black and white, Vartanov turned his lens on practically all subjects that exuded a certain melancholic poetry – from old interiors and Tbilisi's historical streets to found-object still lives and portraits of adolescent women.
From the beginning of the 1970s, the photographer became more interested in the formal possibilities of the photocollage. These assemblages were put together during the printing process, by overlaying two or more negatives. Representing vague and fragmentary details drawn from Tbilisi's urban environment and the artist's collection of antiquities, trinkets and memorabilia, Vartanov's images conjured up intensely personal and emotionally charged psychological spaces. Derived from a classically surrealist vocabulary, these 'made' photographs focused on photography's transformative powers, and more specifically, its magical and uncanny faculties. Many of these works feature analogous subjects such as clairvoyants, ghosts, clocks and magicians that betray Vartanov's profound interest in mysticism and metaphysics. As noted by one of the first commentators on his oeuvre, the art historian Irina Duztsova, 'Vartanov's black and white photography is dramatic [and] forces to notice that, which we have overlooked in the everyday and contemplate it.'(2)
The objects and subjects thus 'rescued' by Vartanov are things which have often lost their primary function. In his photographs they act as aesthetic and semantic channels through which the past constantly haunts and spills into the present, much as in the film and collage works of Vartanov's compatriot (and undoubtedly a source of direct influence) Sergey Paradjanov. This surrealist reincarnation of 'dead' objects was even more tangible in Vartanov's assemblages, which he created in parallel to his photographic dreamscapes.
Though well-known in Tbilisi's underground circles, Vartanov's art received its first wide-scale public exposure through the Armenian literary-critical journal Garoun(Spring). The publication of his photographs in 1983 was part of this influential magazine's efforts to promote photography as an autonomous art form, while attempting to integrate the work of Tbilisi-based Armenian photographers into a definition of contemporary Armenian art that stretched beyond the geo-political confines of the Armenian Republic.
1) Yekatirina Mikaridze, 'Odin Vigen – Odin Tiflis' (in Russian), 17.03.2018, www.nv.am, http://nv.am/odin-vigen-odin-tiflis/
2) Irina Duztsova, 'Vigen Vartanov', Garoun, no.9, 1983
Nationality
Armenian, Georgian
Region
USSR, Georgia, Georgian SSR
City
Tbilisi
Activity
artistic
Media
analogue photography
Bibliography
Duztsova, Irina. 'Vigen Vartanov', Garoun, no.9, 1983
Mikaridze, Yekatirina. 'Odin Vigen – Odin Tiflis' (in Russian), 17.03.2018, www.nv.am, http://nv.am/odin-vigen-odin-tiflis/
Exhibitions
2017: The Art of Found Objects, solo show, Art Gallery, Tbilisi, October