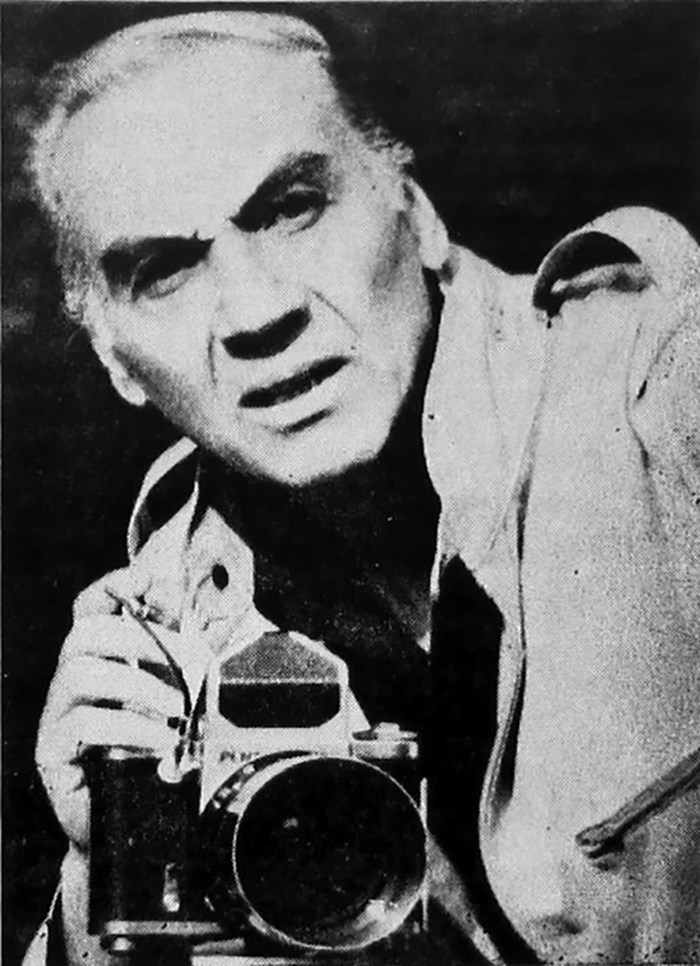 Georgiy (Gevorg) Makarovich Ter-Ovanesov (Ter-Hovhannisyan)
Georgiy Ter-Ovanesov is a prominent representative of Soviet film still and publicity photography. Born in Samarkand, he was fascinated with the medium since his childhood years. Ter-Ovanessov received his first professional photo camera as a reward for his participation in the Great Patriotic War and used it to start his career as a photographer in a Moscow photo-concern after the war.(1)
In the early 1950s, Ter-Ovanesov was invited to take up a position at the Vechernaya Moskva (Evening Moscow) newspaper as a photo-correspondent and then, in 1958, he joined the Sovetskiy Ekran (Soviet Screen) magazine as its first permanent photographer. It is with this publication that the primary trajectory of Ter-Ohanessian's practice – the photography of film stars and film stills - became associated with in following decades. He was arguably the most widely recognised photographer to be working in this area in the USSR during the 1960s-70s. The many hundreds of Soviet film-star portraits made by Ter-Ohanesov regularly appeared on the pages of nearly all cultural and social periodicals released in the USSR. As a special correspondent, the photographer also collaborated with Sovetskiy Film (Soviet Film), Novosti Kino (Cinema News), Iskusstvo Kino (Art of Cinema) journals, as well as Soyuzinformkino and Sovexportfilm publishers. His publicity portraits of film figures were also released as postcards and distributed throughout the USSR in very large editions. 
Ter-Ovanesov kept close friendly relations with Armenian cinematographers, especially Frunzik Mkrtchyan, Yuri Yerznkyan, Frunze Dovlatyan and Dmitry Keosayan. He has photographed a number of renowned Armenian film actors and was the stills photographer on Frunze Dovlatyan's iconic 1968 film Hello, It's Me. According to actor Nikolay Kryuchkov, it was thanks to Ter-Ovanesov's auspices that Frunzik Mkrtchyan agreed to take his now legendary role in Georgy Danela's Mimino.(2) The photographer himself had minor roles in a number of films and authored two feature film screenplays on the subject of the Great Patriotic War. Working into the late 1980s, Ter-Ovanesov was decorated by the state, receiving the title of Honorary Art Worker of Russia in 2005.
In his portraits of filmmakers and especially actors, the photographer strived to relay not so much their 'celebrity' status as the casual and unadorned personalities of these individuals that lay off-screen. From the late 1960s onwards, the photographer gradually moved away from studio-set shoots, seeking instead more factual and documentary forms for representing his subjects – often in their private or work environments. In these unpretentious portraits, the screen heroes appear as ordinary mortals, whose convincing familiarity provides Ter-Ohanesov's photographs their benevolent charm. 
1) Hripsime Galstyan, 'Fotokhudozhnik Georgiy Ter-Ovanessov. O Druge Frunzika Mkrtchyana I Yevgeniya Yevstigneeva' ['Photo-artist Georgiy Ter-Ovanessov. About Frunzik Mkrtchyan and Yevgeni Yevstigneev's Friend', in Russian], https://www.armmuseum.ru,  29.11.2017,
https://www.armmuseum.ru/news-blog/2017/11/29/--2
2) Nikolay Kryuchkov and Georgiy Ter-Ovanesov, Khurdozhnik-Fotograf Georgiy Ter-Ovanesov [Photo-Artist Georgiy Ter-Ovanesov, in Russian], collection of postcards, USSR Cinematographers Union, Moscow, 1986 
Nationality
Armenian, Russian
Region
USSR, Armenia, ArmSSR, RSFSR, Russia
City
Samarkand (b.), Moscow
Activity
artistic, advertising, studio, documentary, photo correspondent
Media
analogue photography
Bibliography
Galstyan, Hripsime. 'Fotokhudozhnik Georgiy Ter-Ovanessov. O Druge Frunzika Mkrtchyana I Yevgeniya Yevstigneeva' ['Photo-artist Georgiy Ter-Ovanessov. About Frunzik Mkrtchyan and Yevgeni Yevstigneev's Friend', in Russian], https://www.armmuseum.ru,  29.11.2017,
https://www.armmuseum.ru/news-blog/2017/11/29/--2
Kryuchkov, Nikolay and Georgiy Ter-Ovanesov, Khurdozhnik-Fotograf Georgiy Ter-Ovanesov [Photo-Artist Georgiy Ter-Ovanesov, in Russian], collection of postcards, USSR Cinematographers Union, Moscow, 1986
Other images by this author