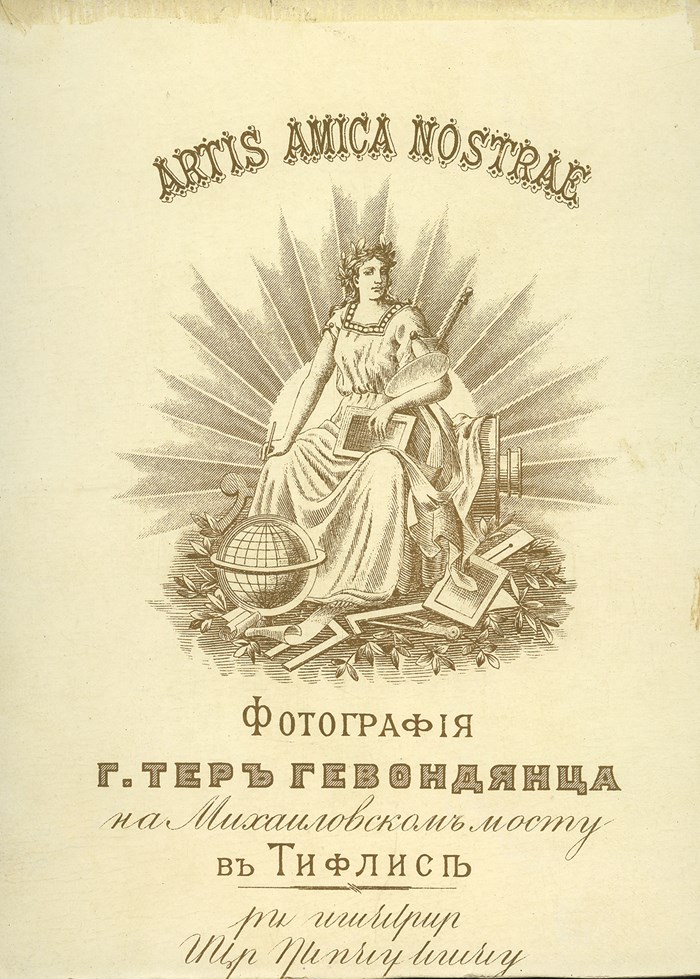 Grigor Isahaki Ter-Ghevondyants
Arriving in Tiflis in 1854, Grigor Ter-Ghevondyants soon befriended the noted Armenian writer and photographer Pertch Prochyan. According to photo-historian Vahan Kochar, this friendship quickly blossomed into a partnership as both begun to study photographic techniques.(1) It is possible that during the early 1860s, Ter-Ghevondyants operated one of the smaller studios in the Caucasus under Prochyan's name.
A few years later in 1864 Ter-Ghevondyants opened his own studio near the Mikhaylov Bridge in Tiflis, becoming one of the first local professional photographers in the region.(2) His prominence as a major figure in the Armenian milieu is evidenced by the fact, that almost all the members of the Armenian intelligentsia in Tiflis had their portraits taken in his studio. This extensive gallery of notable literary, theatrical and religious figures includes august names such as Raffi, Mikayel Nalbandyan, Hovhannes Tumanian, Komitas, Gabriel Sundukian, Grigor Artsruni, Ghazaros Aghayan, Hakob Paronyan, Rafael Patkanyan, Father Khrimyan and actress Siranuysh.
His was undoubtedly on close friendly terms with many of his subjects and these portraits served not as mere records of individual writers or artists, but became a much needed sources of collective iconography for the Armenians around the region. Perhaps inspired by the French photographer Nadar's similar project, Ter-Ghevondyants consciously documented the nation's esteemed thinkers as a contribution to the growing national emancipation amidst the Armenians. As claimed by the biographer of Grigor's son, Anushavan, the Ter-Ghevondyants household was a regular salon where many of these cultural figureheads met to exchange and discuss ideas.(3) Formed in this rich intellectual and artistic milieu, Ter-Ghevondyants's son Anushavan eventually became one of the first notable Armenian composers.
 Anushavan later wrote in his memoirs, that his father household was also a meeting place for bolshevik activists, such as Stepan Shahumyan and the notorious anarchist Kamo.[4] Possibly influenced by 19th century theories on physiognomy, Ter-Ghevondyants focused on the face of his sitters, perhaps believing that the character and the soul of his subjects could be read on their facial features. Unlike the usual studio fare, these portraits are devoid of backgrounds or props. The facial features are delineated through high-contrast lighting indicating that the photographer made the photographs so that they could be easily reproduced in print. It should be noted, however, that a great number of portraits of famous Armenians which bear the Ter-Ghevondyants stamp, are copies from photographs made by others. This is particularly true of carte-de-visite photographs depicting Western-Armenian notables. It is not clear whether Ter-Ghevondyants had officially purchased the rights to reproduce these, breached copyright or was simply asked to make copies of such portraits by the visiting subjects themselves (a regular practice at the time).
Aside from purely studio photography, Ter-Gehvondyants appears to have been interested in ethnographic photography. As some surviving photographs indicate, he had travelled to remote corners of Armenia, such as Zangezur, where he documented the local population in their everyday life and dress. A seminal figure in the medium's development in the Caucasus, Ter-Ghevondyants's oeuvre awaits a deeper study and proper evaluation.
[1] Vahan Kochar, Hay lusankarichner (Armenian photographers, in Armenian), self-published, Yerevan, 2007, pp 358-363
[2] We learn this date from his studio backstamps.
[3] E. Gilina, Anushavan Ter-Gehvondyan, Haypethrat, Yerevan, 1962, p8
[4]ibid, p11
Nationality
Armenian
Region
Russian Empire, Georgia
City
Tiflis
Studio
G. Ter-Ghevondyants
Activity
studio, documentary
Media
analogue photography
Bibliography
Gilina, E. Anushavan Ter-Ghevondyan, Haypethrat, Yerevan, 1962 

Kochar, Vahan. Hay lusankarichner, self-published, Yerevan, 2007, pp.358-363
Collections
E. Charents Museum of Literature and Arts, Yerevan. Lusadaran Armenian Photography Foundation, Yerevan.
Other images by this author