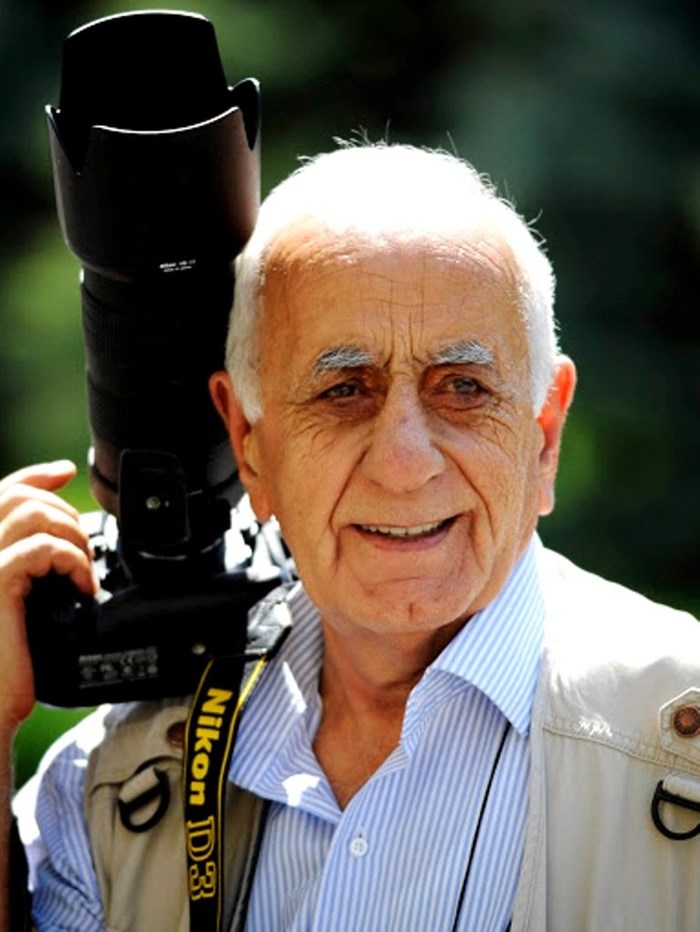 Martin Shahbazyan is one of the more distinguished and prolific figures in the history of Armenian photojournalism. His photographic practice dates from 1966 when Shahbazyan began corresponding for Hayreniki Dzayn (The Homeland Voice) and Komunist newspapers with his documentary reportages. His straightforward, but inspired pictures were also published as postcards and reproduced in various photo-albums. Ten years later, the photographer took a position with "Armenpress" photo- agency, where he worked till 2001.
The impassioned romanticism peculiar to the photographer's earlier work, gradually disappears from series made in the 1970s. These documentary observations are marked by an aloof and impartial gaze, illuminated with an abundant use of flash-lighting. The informational and functional imperatives are brought to the fore of such reportage work. After the Spitak Earthquake in 1988, Shahbazyan's photographs became even more pragmatic and primarily aimed at concrete socio-political and propagandistic goals. From 1990s onwards, the photographer's objective was to record hard facts, without resorting to any aesthetic embellishments. As Shahbazyan recalled in one of his interviews, during those years, 'there were many difficulties [and once] I even had an automatic weapon pointed at me. These were difficult, but historic years. Prior to the Karabakh movement in Yerevan, there were environmental protests and rallies. In those years, it was not always allowed to photograph everything. But the boys, the protesters, would inform me and I'd go and take photographs.'(1)
In Shahbazyan's best reportage work, the true wrinkles of political reality appear in episodes, which are of secondary importance. Photographing ordinary people and everyday environments in moments of conflict and emergency situations, Shahbazyan brings out the social function of photography to the foreground. In his practice, the photograph becomes not only a passive source of information but also a means for generating communication. Outside of this functionalist work ethic, the photographer preferred to make loving and picturesque images of Armenia's natural landscape and portraits of cultural workers.
From 2001 until the mid 2010s, Shahbazyan assumed the reigns of the official photographer to Armenia's presidents Robert Kocharyan and Serzh Sargsyan. His creative trajectory has been showcased in numerous solo exhibitions, as well as in albums such as My Armenia and The Regions of Armenia.
1) Lianna Nersisyan, 'Martin Shahbazyan. Interview', www.newmag.am. Septermber 2016, http://newmag.am/2016/martinshahbazyan/
Nationality
Armenian
Region
USSR, Armenia, ArmSSR
City
Yerevan
Activity
documentary, photo correspondent, photojournalist
Media
analogue photography, digital photography
Bibliography
Kochar, Vahan. Hay Lusankarichner [Armenian Photographers, in Armenian], self-published, 2007, pp.260-266
Nersisyan, Lianna. 'Martin Shahbazyan. Interview', www.newmag.am. Septermber 2016, http://newmag.am/2016/martinshahbazyan/
Shahbazyan, Martin. Im Hayastan [My Armenia], photo-album, Vipnet, Yerevan, 2009
Shahbazyan, Martin. Hayastani Marzery [Regions of Armenia]. photo-album, Tigran Mets, Yerevan, 2011
Exhibitions
1971։ Group exhibition of 'Yerevan' photo-club, March, Yerevan
2010։ Solo exhibition, Ijevan gallery
2011։ 'Regions of Armenia', solo exhibition, Academia Gallery, Yerevan, April 
Collections
Lusadaran Armenian Photography Foundation, Yerevan
Other images by this author