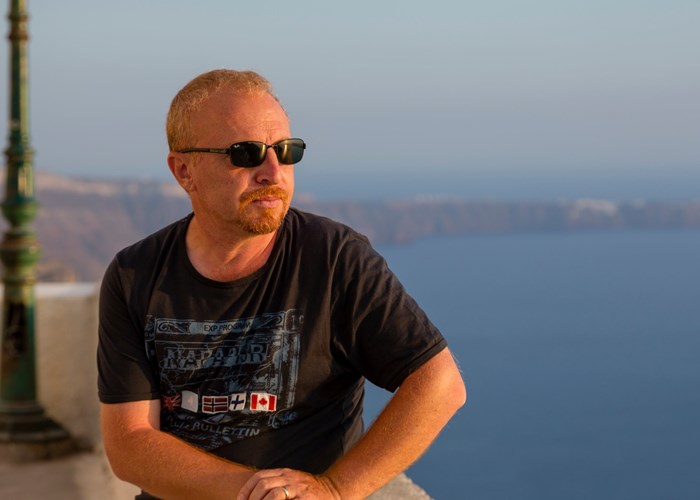 A film cameraman by profession, Mekhak Movsisyan received his higher education at the VGIK (The Gerasimov Institute of Cinematography) in Moscow. Returning to Yerevan in the mid-1980s, he attempted to join the Hayfilm studio, but due to his lack of residency registration he was forced to return to Moscow where he had received a job offer from CNN and later became more involved in the field of news video-reportage.(1)
In tandem with his work as a film cameraman, Mekhakyan also practiced photography. He specialized in publicity and advertising shots of film personalities, which have frequently adorned the covers of Sovetskiy Ekran [Soviet Screen, Moscow] and Ekran [Screen, Yerevan] magazine issues of the late-Soviet period. These portraits in colour are made according to the standards of documentary, rather than commercial photography, and present their subjects not as celebrities or iconic personalities but as professionals committed to their work. 
Since the early 1990s, Movsisyan has primarily been occupied with camera operating and directing. He currently resides in France. 
1) Valeriy Gasparyan, 'Na Prime-time Mozhno Delats Khoroshie, Zrelishnye Filmy' ['On Prime-Time, it is Possible to Make Good, Spectacular Films', in Russian], www.nv.am, 04.08.2016, http://nv.am/na-prajm-tajm-mozhno-delat-horoshie-zrelishhnye-filmy
Nationality
Armenian
Region
USSR, Armenia, RSFSR, Russia, France
City
Gavar (b.), Yerevan, Moscow, Paris
Activity
advertising, documentary
Media
analogue photography
Bibliography
Gasparyan, Valeriy. 'Na Prime-time Mozhno Delats Khoroshie, Zrelishnye Filmy' ['On Prime-Time, it is Possible to Make Good, Spectacular Films', in Russian], www.nv.am, 04.08.2016, http://nv.am/na-prajm-tajm-mozhno-delat-horoshie-zrelishhnye-filmy
Other images by this author