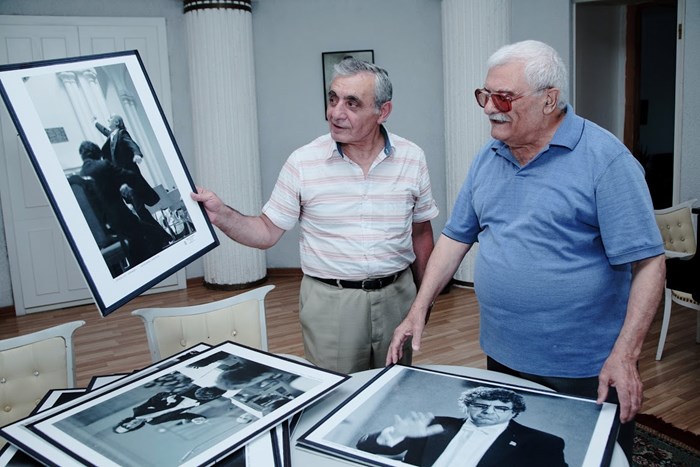 In the early 1960s, Robert Karapetyan studied at the Yerevan State Institute of Theatre and Cinematography, after which he received a post at The Armenian State Television as a director.(1) In tandem, he has continuously worked in photography, with which he was enamoured with since his teenage years. Karapetyan first published his photographs in 1956, in the newspaper Avant-Garde and began to correspond with the daily Raya Taza a few years later. Other newspapers, such as Komsomolets and Hayreniki Dzayn (Voice of Fatherland) started giving him assignments in 1961 and 1965 respectively.(2) Karapetyan is a master in different genres of photography, but the primary focus of his work has always been on documentary portraits of Armenian intellectuals and artists. This extensive gallery of cultural figures includes iconic personalities like William Saroyan, Paruyr Sevak, Silva Kaputikyan, Sos Sargsyan, Frunzik Mkrtchyan, Vahram Papazyan, Gohar Gasparyan and many others. 
Karapetyan preferred to portray these doyens of stage, art and literature during moments of work. These are 'snapped' portraits in which the photographer has relayed the personality traits of his subjects and the characteristic aspects of their métier. Here, the celebrities are shown as simultaneously iconic and entirely human: they are people who are struck not with the fever of stardom, but with the obsession of creativity.
Though Karapetyan's works have been regularly published in the local, Armenian press, he has always remained a freelance photographer – something that is reflected in the personalised and intimate approach evident in his images. According to Karapetyan, he had also authored the colour plates of Ejmiatsin's Treasures and Armenian Carpets albums, but the photographic credit of these famous publications is officially given to Karapetyan's close friend, Poghos Poghosyan.(3)
At the beginning of the 1990s, Karapetyan emigrated from Armenia and currently resides in New York.
1) 'Robert Karapetyan: Beyond the colours', 15.08.2016, http://hayernaysor.am, http://hayernaysor.am/en/archives/203513; 
2) https://hairenikweekly.com/2016/09/01/29191#prettyPhoto
3) (unsigned), 'Lusankari Varpety' ['The Master of Photography', in Armenian], 12.12.2014, https://www.azg.am/AM/culture/2014122604
Nationality
American, Armenian
Region
USA, Armenia, ArmSSR
City
Yerevan, New York
Activity
artistic, documentary
Media
analogue photography
Bibliography
Danielyan, Samvel. 'Arzhekavor Lusankar Kareli e Stanal Miayn Taknvats Tesakhtsikov' ['It is Possible to Get a Valuable Photography Only Through a Hidden Camera', in Armenian], 15.09.2015, http://www.aravot.am/2015/09/16/608876/
Santryan, Vannik. 'Robert Karapetyani 80 Lusankarnery...', ['The 80 Photographs of Robert Karapetyan...' in Armenian], 1.09.2016, http://hairenikweekly.com/2016/09/01/29191#prettyPhoto
Exhibitions
2015: 'Holy Cross, Holy Trinity'. Solo exhibition, Moscow Cinema, Yerevan 
2016: Solo exhibition, Isahakyan Library, Yerevan, August 6-12
Other images by this author